The Haçienda Years
From 1982 Factory seemed to become much more skittish and light hearted in terms of design and marketing. The industrial motif itself began to appear in a range of increasingly self parodied forms with an emphasis on frivolity and playful colour, ultimately alluding to a sort of clash between constructivist styling and psychedelic aspiration. The industrial feel of Factory's (Peter Savill's) design vision was non the less still very much in tact and an obvious foundation of much of the design. This was also the period when Factory's famous industrial design ethos was assimilated into the UK packaging of the new House music phenomena through the cult of the Hacienda, and in one way manifest as the reapropriation of industrial clothing as fashion. The House music 'scene' in the US (Chicago) was more associated with sports styling.
FAC51 The Hacienda interior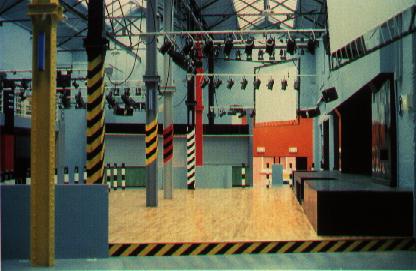 The Hacienda interior was loosely based on a trendy New York disco and designed by Ben Kelly who was commissioned by Factory in the early to mid 80s to design the companies corporate and recreational spaces including the Dry Bar, The Area, and Factory's new HQ on Princess Street, later The Paradise Factory club. Kelly's approach was obviously sympathetic to the industrial design concept followed by Saville and in many ways also seems to evoke the feel of constructivism. Though the Haçienda is probably not one of Kelly's most notable examples (the Dry Bar & Paradise were more striking in my opinion) it does non the less incorporate very evident references to the De Stijl aesthetic possibly even the famous Schröder House style. Though Kelly also seems to assimilate these classic indexes of modernism into the form of almost whimsical industrial parodies conflated with stark 80s minimalism and the BSI industrial colour pallet
Hacienda House wine label c1983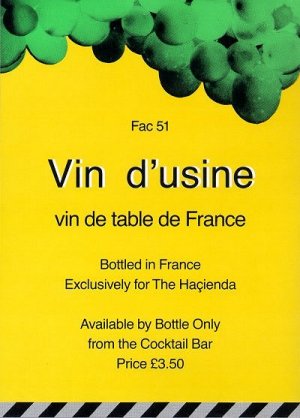 This is a bit of a curiosity. The design of this label also appears to make a passing reference to the fashionable David Lynch style dystopian kitsch and complimented the retro industrial canteen feel of the Hacienda's early bar spaces.
FAC83 Hacienda 1 year celebration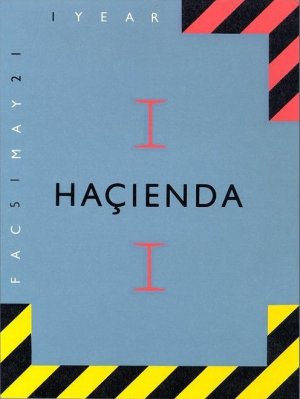 This was the first piece of promo art work by Saville to use Kelly's hazard stripe motifs as iconic decoration, which by now had become synonymous with the Haçienda and emblazoned all of its items of publicity and merchandise, see the wine label above.
Haçienda 5 years celebration.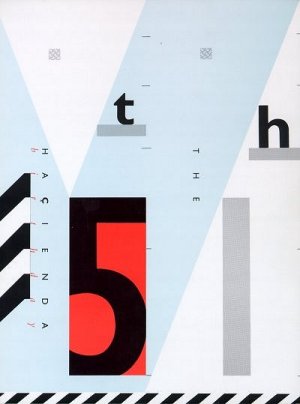 The constructivist mode of design is so strongly evoked here that this poster could almost be a cover for a constructivist manifesto designed by El Lissitzky circa 1924.
FAC518 Haçienda 8 years celebration.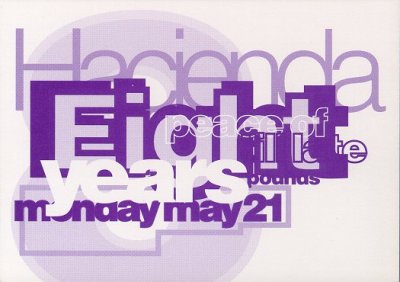 Something of a break with tradition seems to be evident here. This poster was designed at a time when the Haçienda cult was beginning to run out of steam and when the attendant Madchester phenomenon was also post peak. It's very difficult to categorise this "end of typography" information theory obsessed style with the classic Factory remit as defined above and it seems like a desperate attempt at attention grabbing funky commercialism. More Factory Records info at Cerysmatic
© 2004 Oliver Wood - updated 2018