Prestbury Cheshire. Annotated photographs by Oliver Wood
The following pages contain assorted visual musings on Prestbury and surrounding areas. A highly varied and atmospheric landscape is one of the most enthralling aspects of this part of Cheshire ranging from the open lowlands of Chelford to the dramatic wilderness of the Peak District. A veritable patchwork indeed, and all of it steeped in unique qualities of ancient rural folklore and early industrial era whimsy.
An East Cheshire Odyssey by Oliver Wood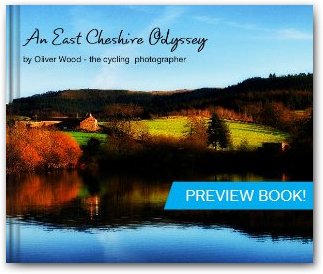 My new book is homage to our beautiful surroundings and cycling adventures that begin and end in Prestbury. Preview shows 23 pages
My Prestbury pictures on flickr
The following pages also include details of the famous St Peter's church which forms both the geographical and cultural hub of the Prestbury community, with its unique Norman chapel satellite (almost 1000 years old) StPeters is one of Cheshire's most notable Norman artefacts and the largest parish church in the county.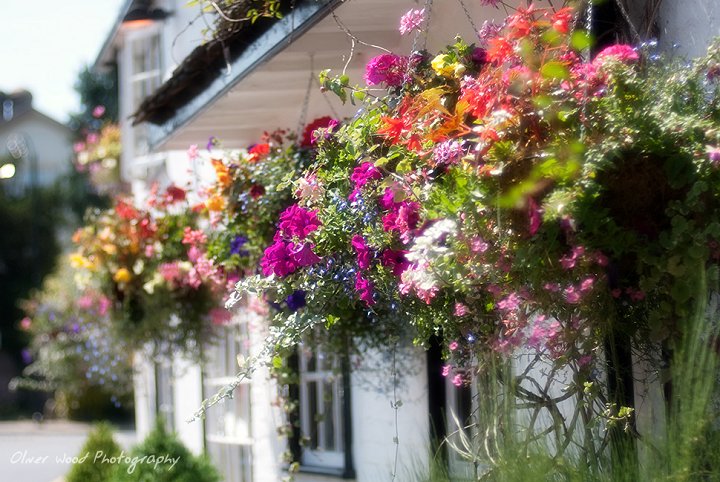 Legh Arms Hanging Baskets, July 2013
An orton processed shot with other filter and texture treatments.
Prestbury Village Restaurant
Orton processed shot with artwork textures. I liked the effect of the tree shadow spilling over the buildings.
Prestbury High Street. June 2006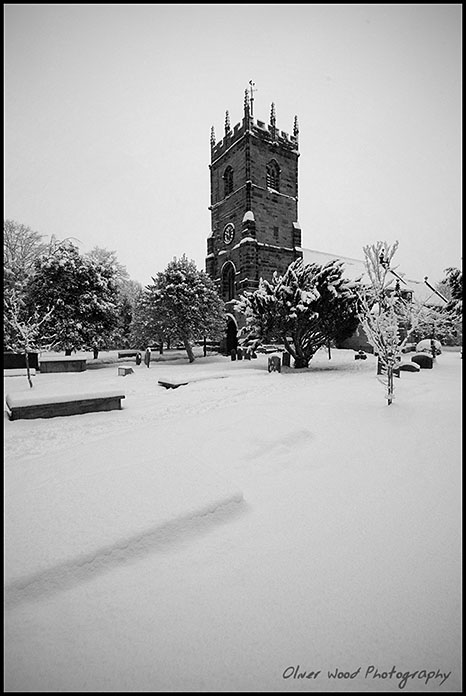 St Peters Church in Snow
This photo was taken in early days of winter 2010, it was to become an exceptionally cold 'arctic' season with up to two feet of snow in Prestbury. I liked the way that the snow in the foreground facilitated this unconventional composition.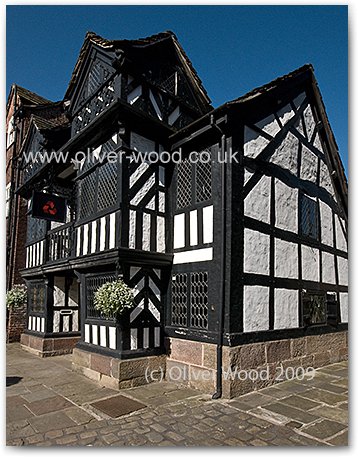 Prestbury Priest's House May 2009
Here is a more up-to-date photo of the Nat West bank building or former Jacobean (or Tudor?) Priest's House in the centre of Prestbury village. The old paving and cobbling throughout Prestbury is a very attractive and notable feature. I think this is a good shot for illustrative purposes but not very happy with barrel distortion resulting from pointing a very wide angle lens upward.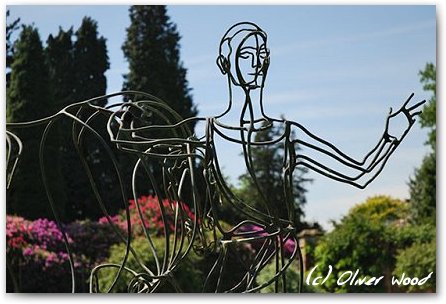 Hare Hill. June 2007
Hare Hill Gardens is an NT property close to Prestbury and Mottram St Andrew. It is one of my favourite local places. A large and secluded walled garden forms the centrepiece and it can at times feel very mysterious.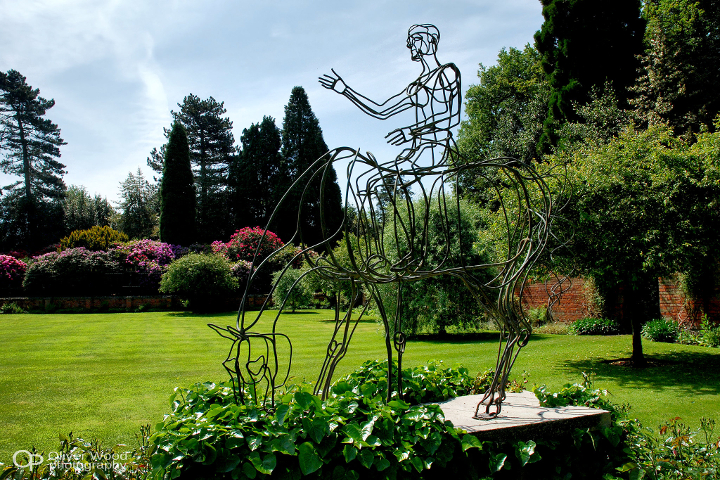 Hare Hill. June 2007
Another view of one of the wire men on horseback sculptures. Both of these images were shot with a Nikon D80 and have been intentionally over saturated.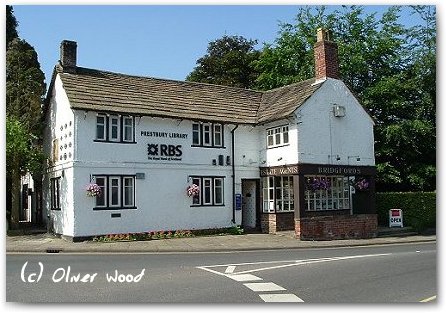 The Old School House. June 2006
The building that is now home to the village branch of RBS, Bridgfords and a very small library was at one time a village school house. The twelve plates on the left hand side wall indicate Prestbury's impressive track record as a winner of the 'best kept village award'.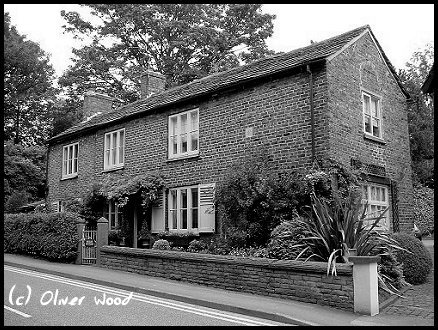 Butley Cottage, Prestbury. June 2006.
Butley Cottage is just outside the Village centre and despite all of the problems with traffic, it still retains that unique rural Cheshire ambience evoking a sense of Prestbury's quiet and remote past. The history of this building is quite well documented. John Swallow lived here for forty years and further historical information on Butley's past can be found on his website.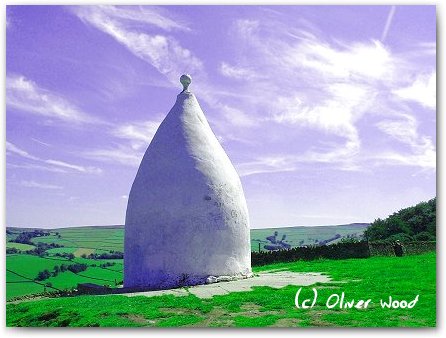 White Nancy, Bollington. Aug 2004
White Nancy is perched on top of Kerridge Hill over looking Bollington and commands a spectacular 270-degree view across the Peak District and the Cheshire planes. This picture was taken on a very hot day, but it is so high up that even the sub stratospheric Sirius cloud appears quite low in the sky. It is a highly energised place, and fantastic after dark (if you are brave enough to be up there!) you can look down on the entire expanse of Macclesfield, Bollington, and Manchester in the far distance and all marked out as extraordinary pools of light. I have not yet seen a "black triangular UFO", stalking "panther like" creatures, or encountered ritualistic neo-pagans but here's hoping. You're actually more likely to encounter a local tagging crew with bags of spray paint.
Rainow "Scarecrows" July 2005
In July the village of Rainow in the foot hills of the Peak District and not far from Prestbury hosts a festival where everyone decorates houses, gardens, and verges, with curious mannequins. Some are set into thematic tableau's, and others seem to represent situations from real life such as resting hill walkers and runners. The villagers' refer to these meta humans as "scarecrows".
New Road into Bollin Grove - Oct 2013
Orton processed shot with artwork texture layers. Looking across the river to the cottages on New Road. The radical variation in the roofline is typical of Prestbury. The cottages along here were built at different times and some were modified to accommodate various activities such as weaving and other agrarian crafts. It is a reminder of the lively artisan community that was once a feature of the village.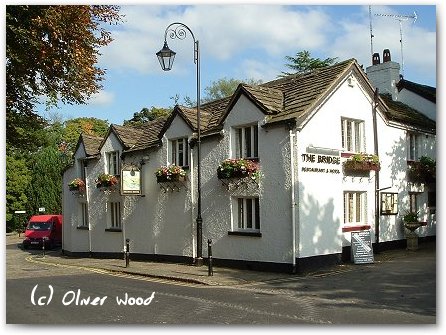 Bridge Hotel, Prestbury. Oct 2005
This building was originally a farm dating from 1626, many of the other white buildings in the village date from the late 17th to mid 18th century. I think it was converted into a hotel in the 1950s but many of the original features still predominate inside.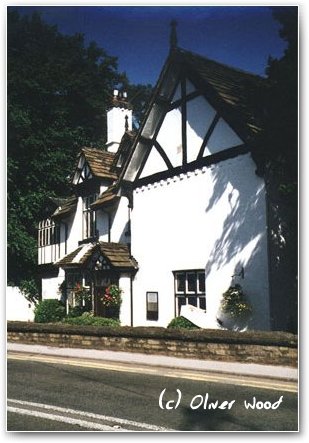 Ford House. July 2000
New Road, Prestbury. December 2000
We had quite heavy snow falls and frosts during the Christmas week. The restaurant that used to be Thymes is now called The Watermark (the sign is rather over exposed) its quite attractive and contemporary, but I have always thought that Thymes slightly bohemian cosy den like feel suited that building very well, Geof Leigh Ford's monkey murals were quite amusing.