A very old and narrow footbridge across the river Bollin near Mottram Hall. This is an obscure footpath that runs from Prestbury to the bottom of the golf course at Mottram Hall hotel. It is a path that I have rarely used until recently as it is a nice avoiding route for that last bit of hill on the Axxx when heading back to the village on the very last leg of the return from a long bike ride out west.
I like the geometric and perspective effect in the wide shot and the tonal quality of the wood, earth and winter leaves. Both of the images have been blended with a paper texture layer.
Aperture: ƒ/4
Taken: 9 January, 2019
Focal length: 10mm
ISO: 200
Shutter speed: 1/125s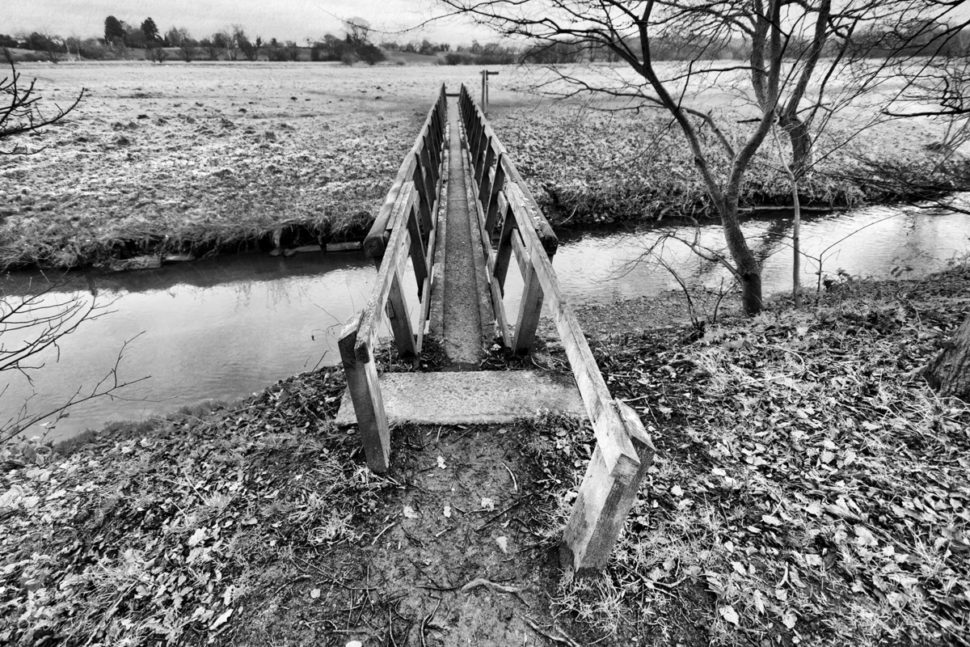 A high angle view of the bridge looking in the direction of home – or rather home is a ninety degree turn to the right as indicated by the sign. Red and yellow levels have been pushed up in the conversion to create a look that is a little reminiscent of infrared film.
Aperture: ƒ/4
Taken: 9 January, 2019
Focal length: 10mm
ISO: 200
Shutter speed: 1/125s
---
« Prestbury New Road | Grass | Pole | Slope »
---