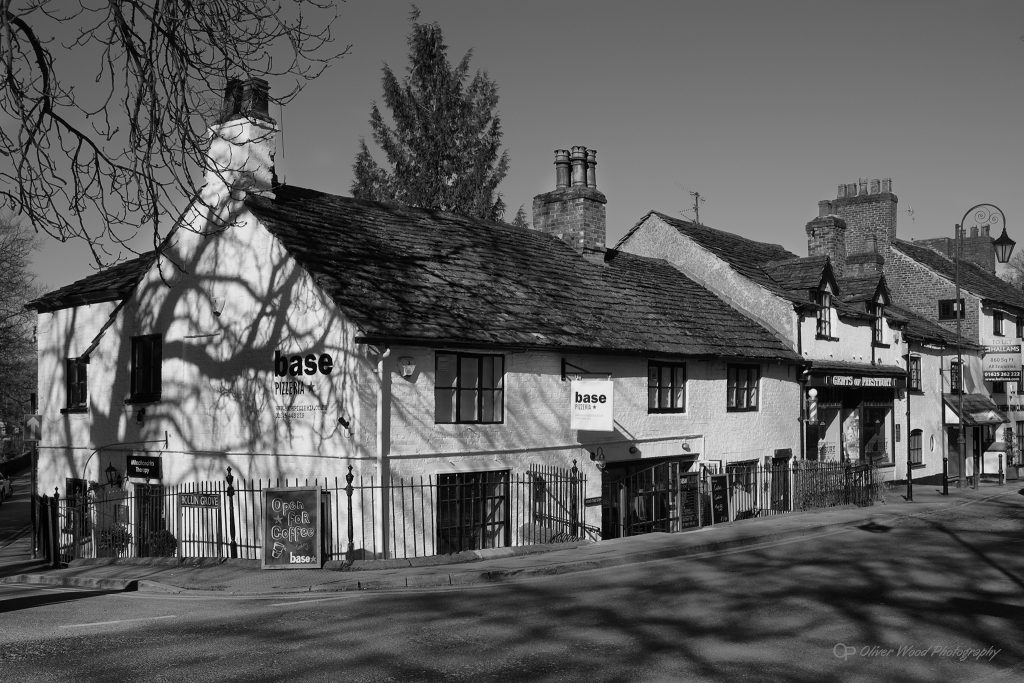 The New Establishment in Town
A late winter – or can we call it early spring(?) afternoon in Prestbury, Cheshire with the newly opened Base Pizzeria. The restaurant is currently serving takeaway coffee in the daytime and pre-ordered takeaway pizzas in the evening. It is only two weeks since opening but already they seem to be doing very well. A popular establishment in the village catering to the many walkers and cyclists that pass through as well as locals. Sour dough Pizzas are cooked in a wood fired oven and there is a very nice selection of recipes including vegan. Check their website at basepizzeria.co.uk
I do like to see these buildings freshly painted and the way they interact with the shadows of tree limbs is quite interesting. As always, I try an image, such as this, in black and white and then there is no going back, though the colour original is actually very vibrant.
Random Selective
Other odd things in the immediate vicinity that attracted my attentions, the perennial favourites; road signs and road works apparatus. I know the isolated colour thing is not clever or cool but I just felt compelled to do it on these two images. Bollin Grove was closed to through traffic due to gas main repairs.
I have not travelled so far this year – on my bike – but in the next few days I think I will go off and explore the route to Holmes Chapel. I'm still feeling a strong attraction to that part of Cheshire, taking in Chelford and Goostrey. My father was very keen on moving to Goostrey in the mid 60s and no doubt had designs on sending me to the prestigious Terra Nova school, probably the main reason for wanting to live so far from work in Manchester. I wish history had taken that course sometimes!
---
« Condensation Traffic | NFT Thoughts »
---