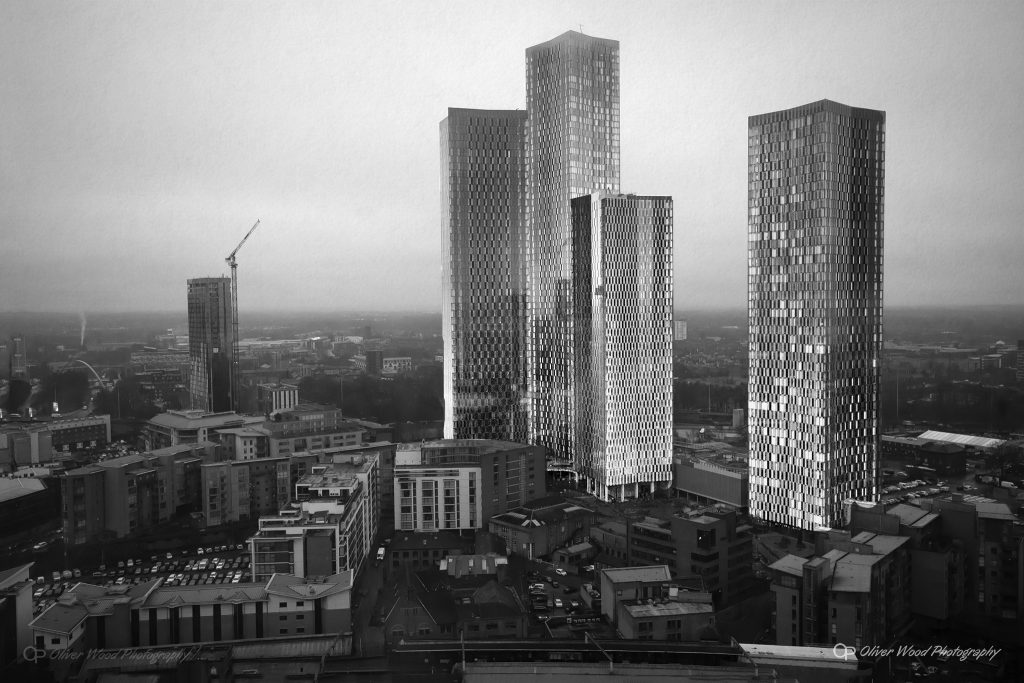 The Ever Changing Skyline
A shot taken from the Hilton on a grey drab and wet day in January 2020, the 23rd to be precise. I have enhanced the image with a few treatments including modest HDR and a paper texture layers – to patch over things.
This is the Deansgate redevelopment area which has changed yet further since the picture was taken. There are now more similar tall buildings. In fact, these tall glass and silver buildings are appearing all over Manchester. The city is beginning to look a little like a mini Manhattan or central LA!
Here we are looking south toward the Manchester suburbs and then on to Cheshire with the Derbyshire hills and White Peak (normally) clearly visible to the left of frame. On this day visibility was very poor. I like the striking effect of this image though – again it seems to convey a quality of surrealism or a slight dreamlike essence? Maybe not necessarily a positive one though. There is a certain weight and sobriety about the image that is largely due to its heavy contrast and the rather unfortunate crushing of shadows, but I still like it even if it dose as some have suggested look a little apocalyptic – at least in the thumbnail!
I will be posting a few more of my Manchester images in the coming weeks. Cityscapes are an unusual subject for me and this may continue to be a very occasional subject category. I have not visited Manchester at all since this picture was taken, even though on this day I had cycled all the way from home in Cheshire to the city and back via Stockport and Bramhall. This was, none the less, just a few weeks before the covid19 outbreak.
Original image exif: –
D: 2020:01:23 @ 11:34:51
t: 1/125s
f: 8.0
I: 320iso
L: 10.0-20.0 mm Sigma
FL: 20.0 mm
---
« Air in Motion | 80s Modular »
---