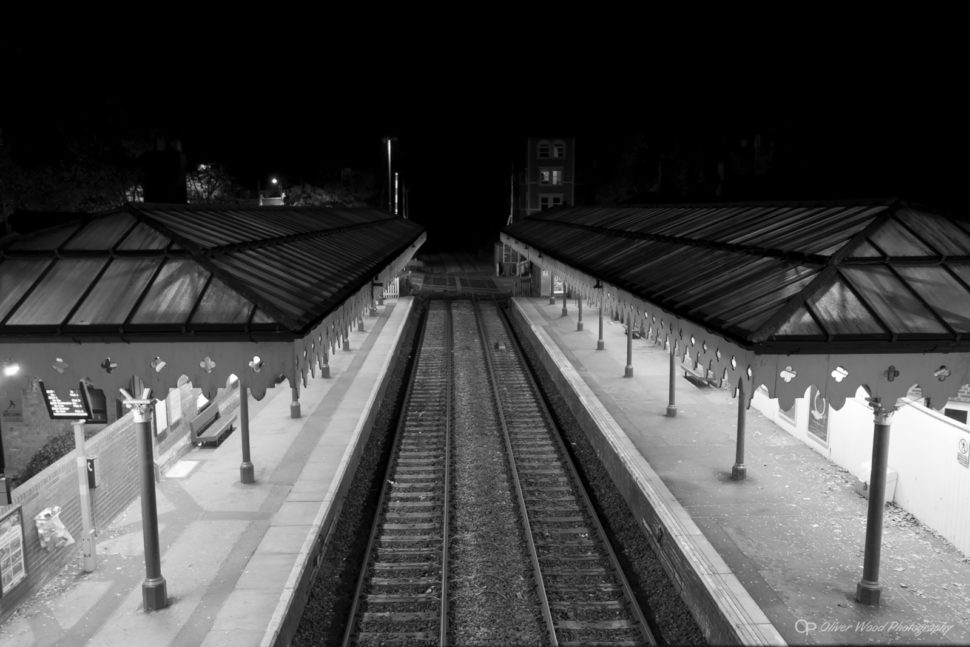 A few semi-experimental pictures from a night on Hale station. This is a very special location for me, and a place that featured prominently in my childhood. I spent many hours here watching trains, generally relaxing, or occasionally taking a ride to Chester or Llandudno and for many in Hale and Altrincham it was the holiday line. it was also a favourite retreat in my school lunchtimes.
The station is a listed building and quite deservedly so. The beautiful canopies date back to the era of the Cheshire Lines Committee, the organisation responsible for building and operating the Mid Cheshire line in its earliest days. Hale station building, or more specifically the canopies, and the now sadly out of use signal box, are very important townscape features and a focal point in the large suburban village of Hale, much of which was developed around the railway and rapidly became a well-healed retreat for commuting Manchester cotton tots. Though in my life-time the setting has changed a lot!
The route was always very busy with a variety of freight mostly heading to and from the industrial heartlands of west Cheshire, Liverpool and Warrington which included the iconic Tunstead to Northwich stone trains. The line is continuing to see a growth in both freight and passenger traffic today with a dramatic increase in night freight traffic due to a lack of day time capacity – some of this traffic is literally travelling from one end of the country to the other. The mid Cheshire is quite a well connected line and can be used as a relief route for anything heading for any part of the network in the south including London, Wales and the West country but is still designated as a secondary route – not a main line.
Aperture: ƒ/5.6
Taken: 10 October, 2018
Focal length: 19mm
ISO: 100
Shutter speed: 2s
---
« Prestbury Pendolino | Winter in The Bollin »
---