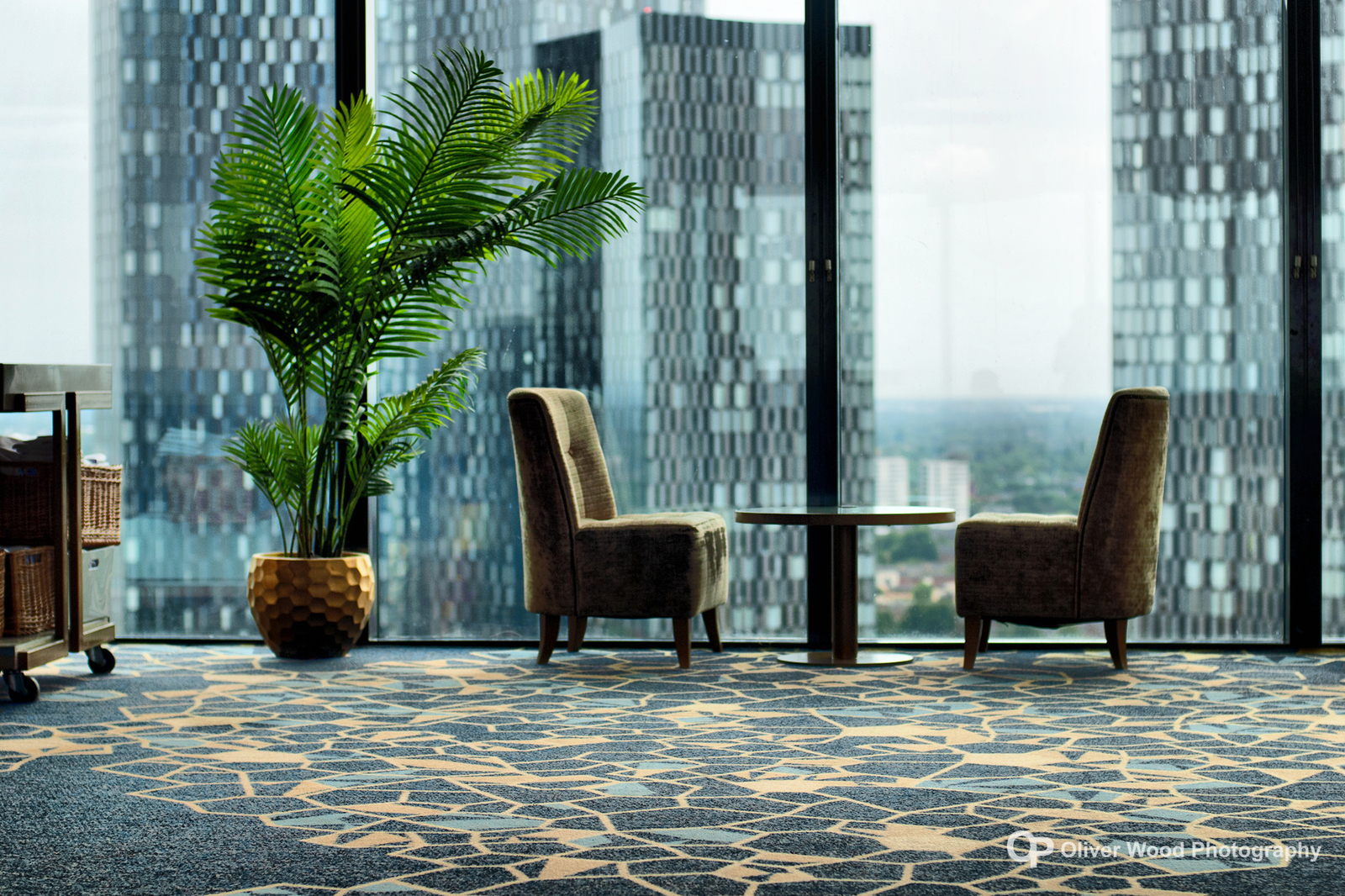 Addendum 15th
I decided to revisit the Hilton on the 15th June with my 50mm f1.4 lens and to get some images with a very different feel. Much more shallow DOF and less geometric distortion. Again, I cycled all the way from home in Cheshire and back!
Manchester Cycle
Another long day out cycling from deepest Cheshire into the centre of Manchester. This time, I rode my old route into town via Adlington, Poynton, Hazel Grove and Stockport. The objective, as always, was to get pictures and also to visit some of my favourite haunts. Namely 'Home', The Cloud Bar and Castlefield.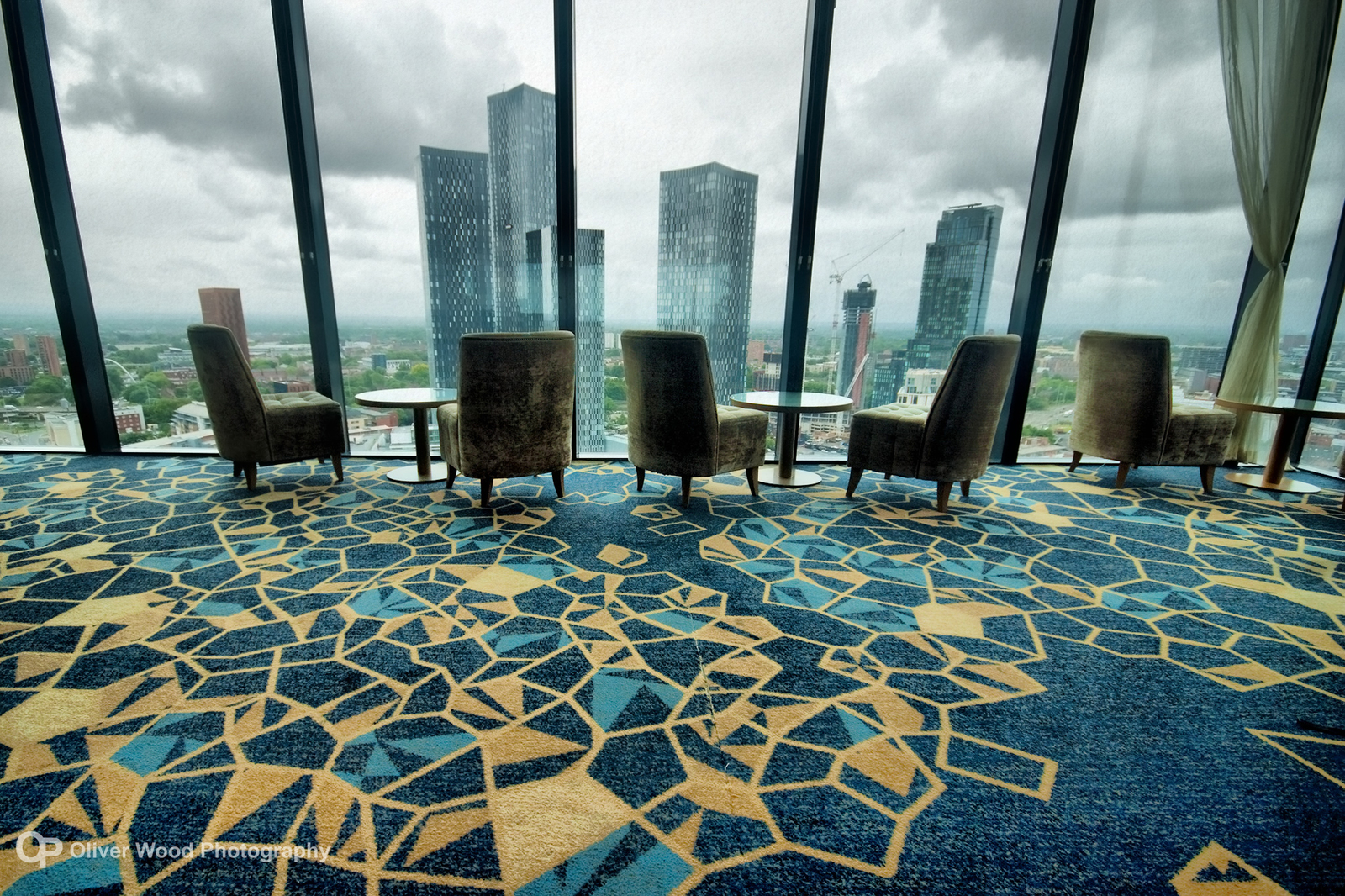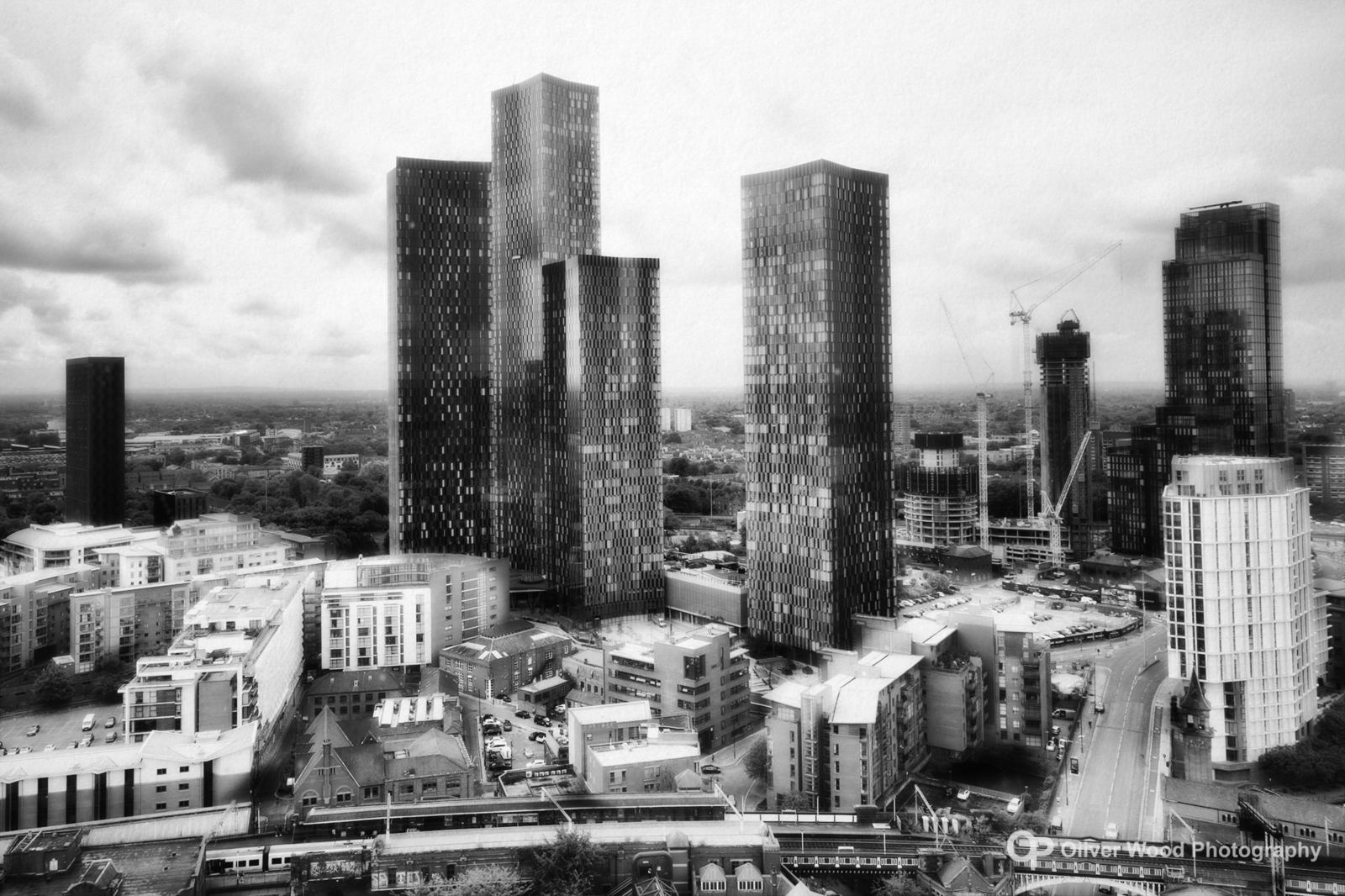 I keep doing this job with my Sigma 10-20 lens when this time I really should have taken the 50mm f1.4 (75mm equiv with my 1.5 crop factor) and picked out some details, or tried for more abstract compositions? The upshot is that the view south looks pretty much identical to pictures I took several years ago. There is no real change to this view either and I was surprised by that!
The view north, which I will post at a later date, looked a bit better and strangely unfamiliar.
The weather turned inclement not long after I was through Levenshulme with a change to rain as I got into town. The light also changed, of course, and yet again I found myself taking photos from the Hilton's 23rd floor of a cityscape under leaden grey sky's thus rendering a low definition scene! I had to apply a little HDR to make edges of things pop.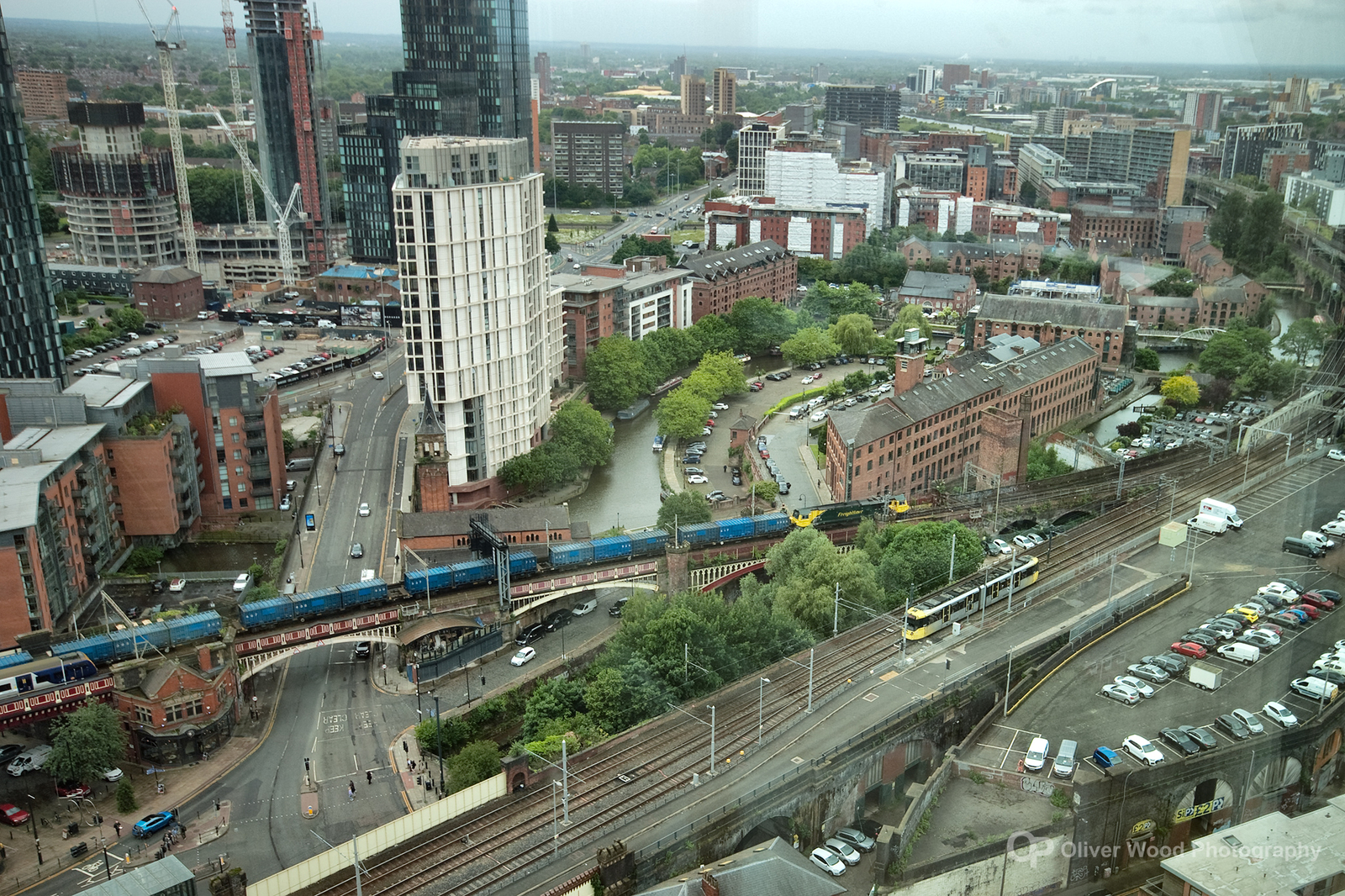 The train of blue containers is the empty Runcorn to Brindle Heath refuse train which has come up the mid-Cheshire line and is returning via Ordsall Lane and Salford. These are transporting refuse as fuel to a large power plant at Runcorn Folly Lane.
Table for two, an HDR image looking due south west from the 23rd floor of the Manchester Hilton Cloud Bar.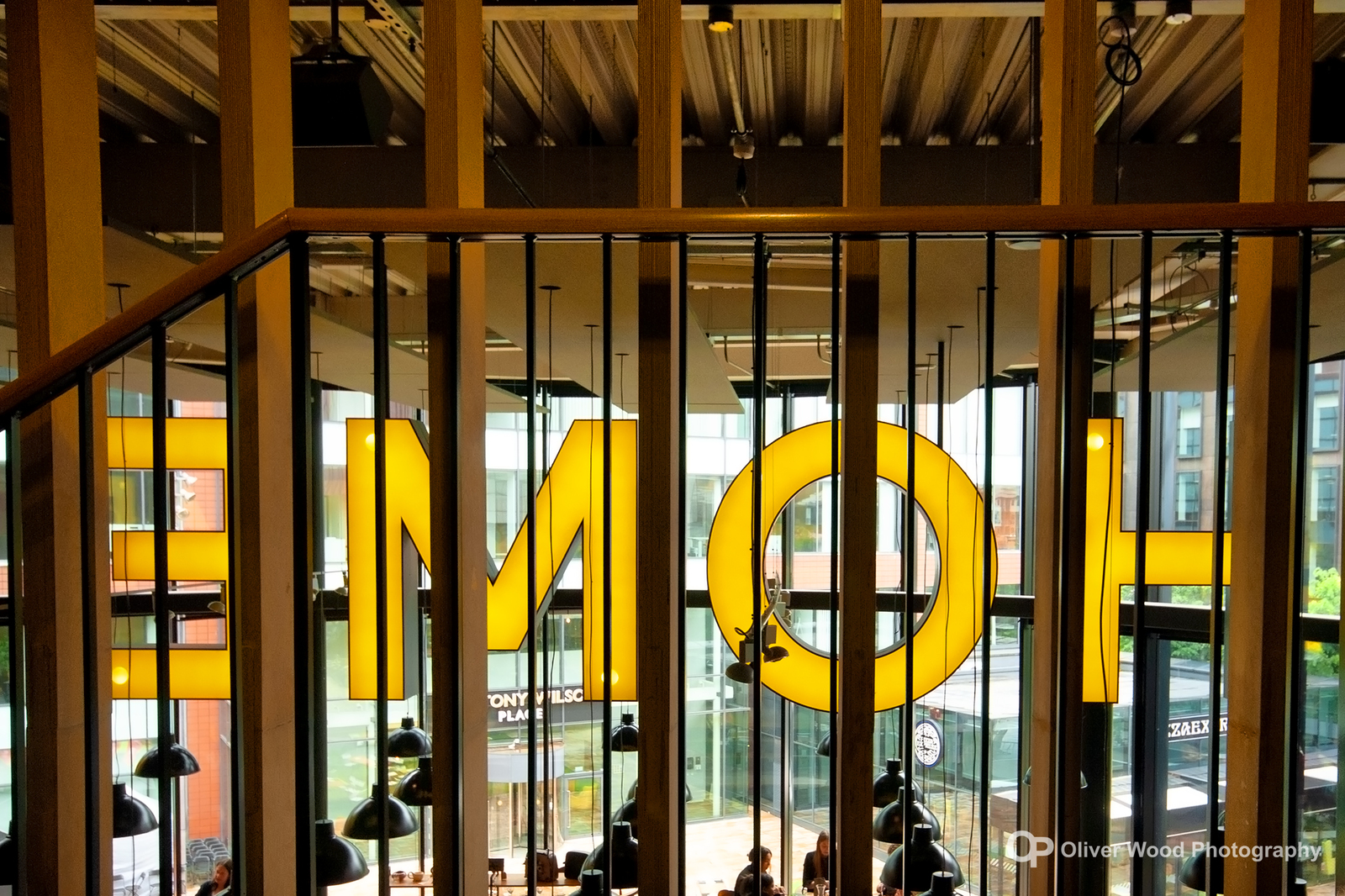 On the Way In
A couple in interesting things seen on the way in to Manchester. The huge development on the site of the former bus station in the centre of Stockport is a cause of much concern. It is threatening to change the visual character of the town quite considerably. Not least because it will partly obscure an historic view of the famous railway viaduct. The largest brick viaduct in the country and a central feature of note in Stockport.
McVitie's factory between Heaton Chapel and Levenshulme. It is a very famous factory and reputed to be the main production centre for Jaffa Cakes. Despite this, it did look rather forlorn and in need of some TLC. The sign and branding is very iconic in the UK and is one of the most recognizable food brands along with Cadbury and Tate & Lyle.
---
« White Nancy Jubilee Beacon | Brand New Mornings »
---