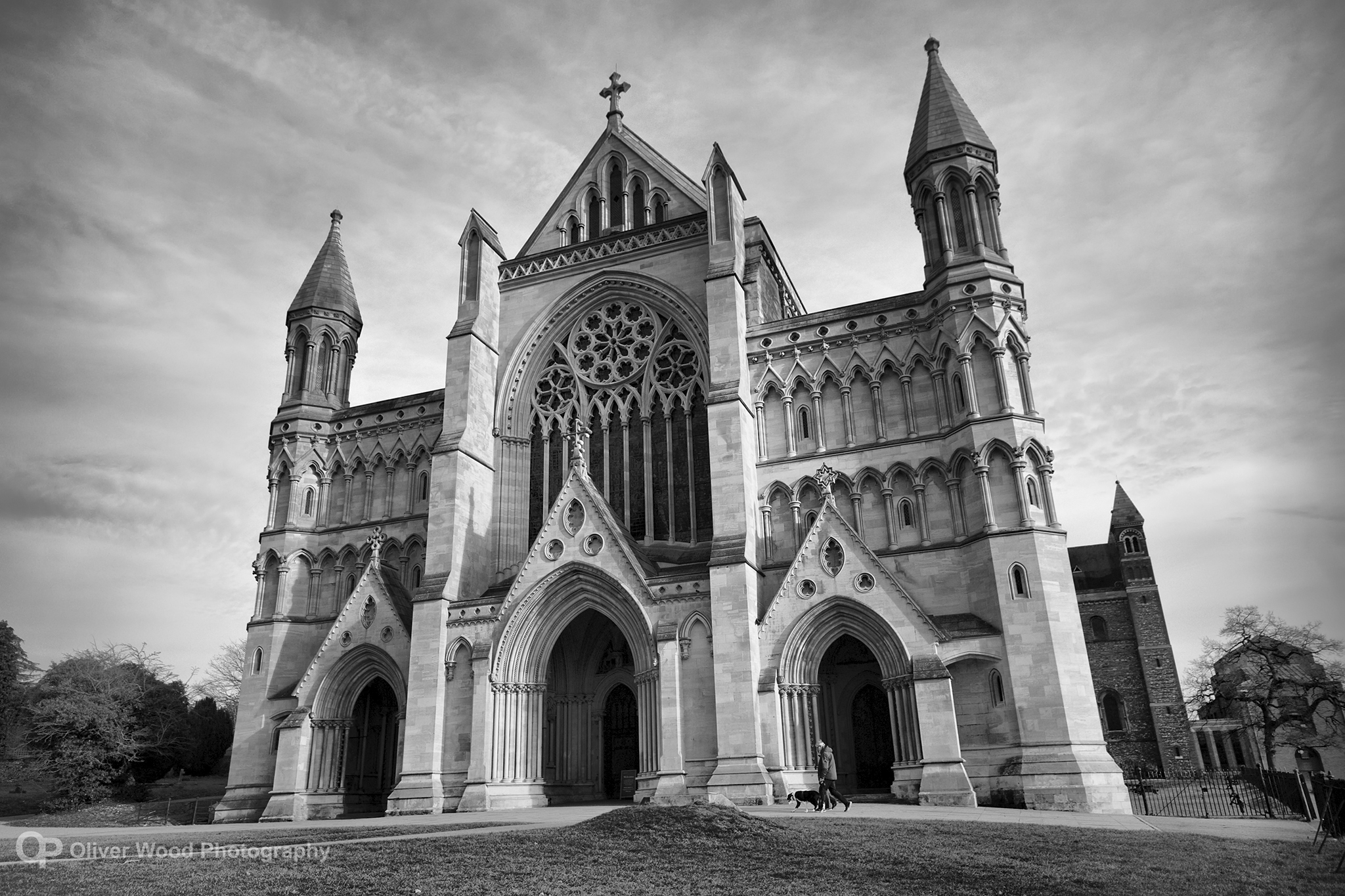 St Albans abbey or cathedral
A recent visit to St Albans in Hertfordshire did not disappoint in terms of photographic opportunities. It was a very pleasant detour with a good-old friend and a visit to see his mum who I have not seen for many years; a very happy day out. We started with a pleasant lunch in The Snug bar in the center of town.
I had just come up from Canterbury where I tried to photograph the equally magnificent and historic cathedral but with much less success. There was a lot of scaffolding over the front entrance and builders boards, parked cars, and other sundry items spoiling the composition. I tried to photograph Canterbury cathedral both at night and in the daytime. These ancient and magnificent monuments to our Christian heritage are the cultural foundation stones of our civilisation.
The abbey or cathedral at St Albans dates back to the 11th century, it is essentially a Norman artifact as are many of England's most beautiful churches. It offers a uniquely good range of angles for the photographer with a lot of "breathing space" for those using longer focal lengths — as I should have!
As always, I feel I need to complain about the horrendous geometric distortion produced by my Sigma 10-20mm lens – fully wide at 10mm in most of these shots. I can live with it though, as this mapping-to-sphere effect (barrel distortion) is well understood and is, kind of, idiomatic of ridiculously wide shots of structures close up! It is a 'look' that went out of fashion at the end of the 70s and became synonymous with that decades' emphasis on extended shapes and perspectives. I would now rather work with a lens that has a field of view in excess of 90o but which produces minimal chromatic and geometric distortion. I think it may be time to trade-in the Sigma for a good rectilinear Zeiss widey soon! I was always a big fan of the Stanley Kubrick 'look' in wide full-perspective imagery…but this comes at a high cost!
Still, I'm pleased with these shots, much more effective than the pictures of Canterbury cathedral. This is partly also due to the magnificent light and fortuitous time of day helping to create an image with quite striking detail and structure.
Other angles
Exif data(s)
Aperture: ƒ/5.6
Taken: 10 February, 2023
Focal length: 16mm
ISO: 100
Shutter speed: 1/250s
Title: St Albans Cathedral
Aperture: ƒ/8
Taken: 10 February, 2023
Focal length: 10mm
ISO: 100
Shutter speed: 1/250s
Title: St Albans Cathedral - Nave
Aperture: ƒ/5.6
Taken: 10 February, 2023
Focal length: 10mm
ISO: 100
Shutter speed: 1/250s
Title: St Albans Cathedral - south side
---
« Canterbury Wall Art | Manchester Airport – Trip 4 »
---