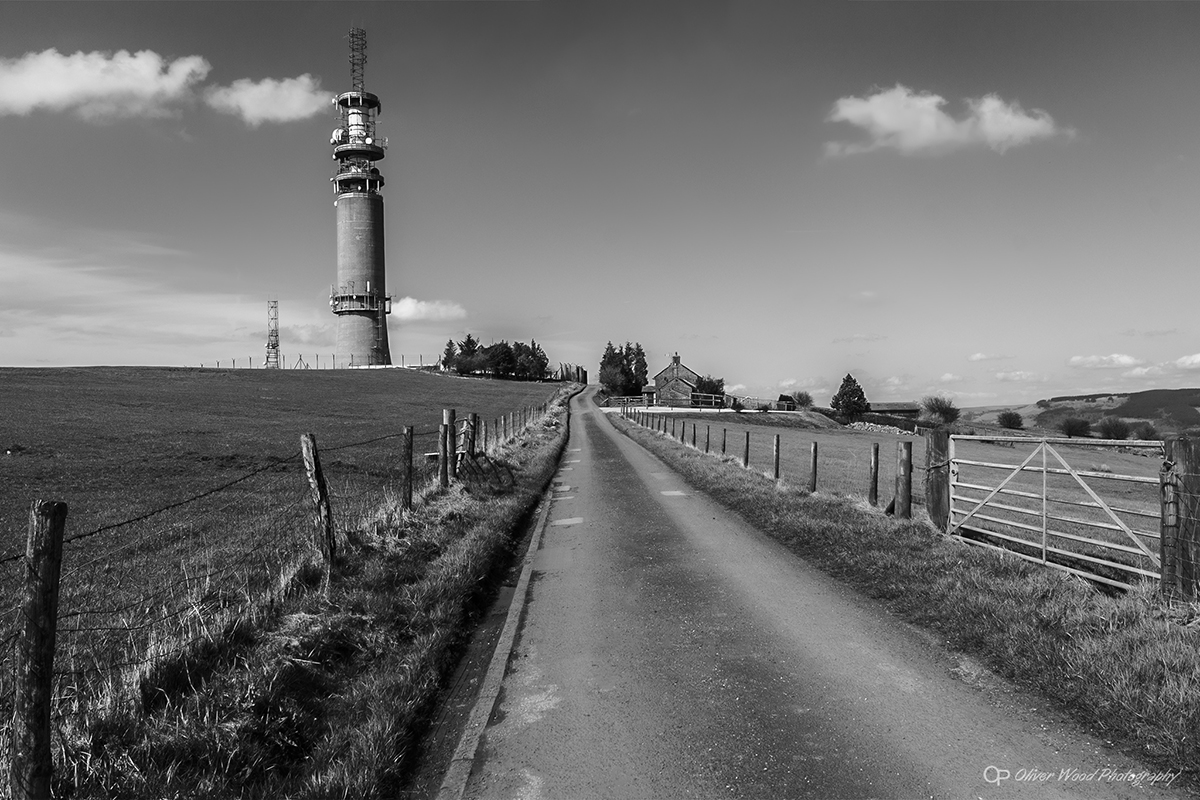 A Macclesfield Cold War Icon
The BT tower at Sutton Common, just to the south of Macclesfield, is a very familiar landmark for all locals … who once referred to it as 'The Clock Tower'. It has become a vital navigational beacon / aid for many walkers and outdoor activities in the surrounding hills as it so clearly marks a reference point that is visible from five miles or more in all directions.
The tower has been a constant feature of the landscape for more than 50 years but its purpose has changed several times since it first appeared. Few people are aware of its current use, though it continues to be equipped with an array of microwave drum antennas for line-of-sight links with its fellow towers to the north and south and a variety of small local distributions. Originally, the tower was festooned with large horn-like microwave antennas giving it the appearance of a strange and sinister metal pitcher plant. At that time Sutton Common was coupled to other comms towers to the north, east, south and west and formed an integral part of a strategic NATO communications chain intended to survive a nuclear war by its use of microwave line-of-sight connections bypassing major target areas. The design of the tower was determined by its requirement to provide shielding against the electromagnetic pulse waves generated by nuclear detonations. It is also built to withstand the predicted blast over-pressures at this location and has a fallout proof ground house.
Sutton Common was initially conceived as part of a SIGINT command chain and communications system code-named 'Backbone' and real-time RADAR tracking data from the Fylingdales BMEWS station was just one of many sensitive traffic flows that passed through here, along with other signals intelligence and UK Warning and Monitoring Organisation traffic from regional government bunkers. It linked Preston with Hack Green and many others. Any civilian use was very much a secondary aspect of the site when it was first constructed. In essence, Sutton Common above all else, is really a huge monument to the cold war and the nightmares it could have unleashed. It was conceived as a key part of a communications channel that would have been responsible for warning us all of impending Armageddon, then coordinating nuclear retaliatory efforts and ultimately controlling what was left of the population. The tower is one of a handful in the so called 'Chilterns' design which are now considered to be important cold war era heritage structures along with the Kelvedon Hatch Swedish chalet style bungalows that concealed entrances to major government bunkers.
A declassified government document detailing the backbone system can be found here Government plan for Backbone
In addition to the above, Sutton Common has always been part of the south to north national broadcast feeder carrying TV and radio signals to major transmitter sites such as Winter Hill, Holme Moss and Emily Moor. GPO / BT role
main image exif:

Aperture: ƒ/8
Taken: 18 April, 2018
Focal length: 20mm
ISO: 100
Shutter speed: 1/250s
---
« Sky Ride – Kettleshulme | New Brighton Lighthouse »
---